Upgrade to the latest AppSealing version 2.16.0.0
Release Date: July 29, 2019
Last Updated: March 23, 2020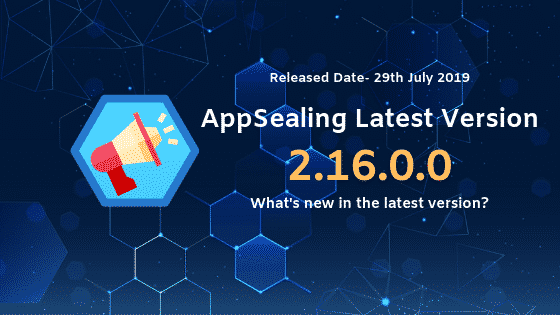 We never stop improving AppSealing Solution. Every month there are several major releases offering security patches, bug fixes, and new or changed features that do not contain any backward breaking changes. Thanks to all of the great feedback we have received since our last version 2.15.0.0. As Always we would suggest upgrading to the latest revision in your release series.
What's new in AppSealing version 2.16.0.0
Released on 29th July 2019
Welcome to the July 2019 release of AppSealing's new version 2.16.0.0. There are a number of updates in this version that we hope you will like, some of the key highlights include:
Supports Unity .Net 4.x scripting for Unity 2017.1 and higher
We have worked hard to support Unity 2017.1 and higher which has .NET 4.x equivalent scripting runtime and it makes switching game project even easier.  Unity's evolution having its scripting runtime equivalent with .Net 4.x has created great value for game developers. We are happy to support this technical improvement and so have put efforts to keep in pace with Unity and .Net technology.
Hacking device ID (Android ID) available on ADC dashboard
AppSealing will be providing Android ID lists being used for hacking on ADC dashboard. This will help our customers track down hacking activity from users in a better way
Rooting, cheating detection and defense enhanced
Magisk and Gameguardian cheating tools are being used a lot to break security layers on Android devices. AppSealing's enhanced security logic now detects rooting and cheating attacks from these tools. So, hackers cannot overcome the security layers enhanced in the new version using these tools.
– Other Improvements + Fixes with the latest version
Rooting app. detection security logic improved to behavior-based for virtual-space and multi-space apps

Stop crash while toast messages are shown
This release is recommended for all users and is a free update to all existing AppSealing customers and subscribers. 
For all owners of previous versions, you can access the latest version by logging in and upgrading your version through AppSealing Developer Console (ADC).
For the full list of release notes, check here.
We're always here to help! If you come across a problem, want to provide feedback, or require support, you can get in touch by email (support@appsealing.com).