Upgrade to the latest AppSealing security version 2.19.0.0
Release Date: November 27, 2019
Last Updated: November 2, 2020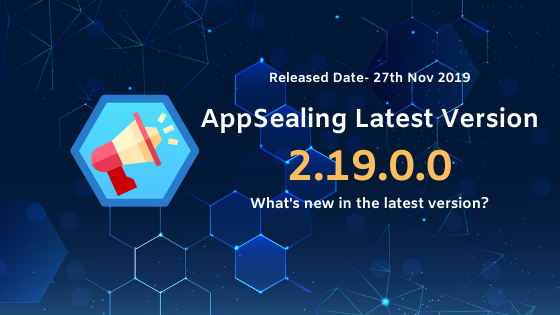 We never stop improving AppSealing Solution. Every new release has security patches, bug fixes, and new or changed features that assure security and stability for your apps. Thanks to all of the great feedback we have received since our last version 2.18.3.0. As always we would suggest upgrading to the latest revision in your release series.

What's new in AppSealing version 2.19.0.0
Welcome to the AppSealing's new version 2.19.0.0. There are a number of updates in this version that we hope you will like, some of the Major Improvements and Fixes include:

Rooting and cheating app detection Improved
1. Game guardian, lucky patcher, Magisk detection improved and package name modified version of those are detected as well 
2. Freedom bypass activities detection improved
3. Rooting detection of LD player improved  
Encrypted Dex loading time improved
AppSealing new version has made a 30% improvement on encrypted Dex loading time than the previous version on average. Dex load time improvement will contribute to better app performance on low-cost devices
Compatibility error with Unity il2cpp build and Unreal engine fixed
Error reported in some apps, using Unity il2cpp and Unreal engine, occurred while loading il2cpp/UE module fixed.
Fixes error not sending a crash report to Crashlytics

This release is recommended for all users and is a free update to all existing AppSealing customers and subscribers. 

How to apply new AppSealing version
Enterprise plan customers are able to choose Android AppSealing security versions on AppSealing Developer Console (ADC) or CLI supporting DevOps. 
Sign-in to ADC and select the security version 2.19.0.0

CLI: set parameter as "-service_version

2.19.0.0″
Pay as you go plan customers are being supported by the most updated APK sealing version in ADC.
We're always here to help! If you come across a problem, want to provide feedback, or require support, you can get in touch by email (support@appsealing.com).