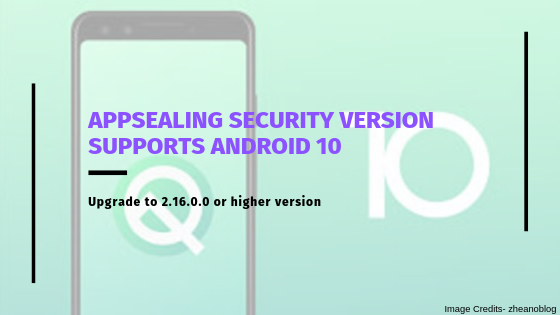 Google recently announced the release of Android Q on September 3rd and was rebranded to Android 10 to make easy for global customers to grasp. So, instead of Android Quiche, we now have Android 10.
The Android 10 update comes with tons of new features that can be found on its official page for the new software.
As announced, it will reach the google pixel phones first and it will soon be available for other phones as well.
From a security standpoint, AppSealing keeps upgrading its APK sealing security version to support major changes on Android OS. And to support this big announcement from google,  AppSealing is fully ready to support Android 10 with its 2.16.0.0 and higher versions.
So to keep our customers on track and avoid any potential crash on Android 10 phones with our lower security versions, we would suggest upgrading to 2.16.0.0 or higher APK sealing versions for more stable and enhanced user experience.
As "Enterprise plan" customers are able to choose APK sealing security versions, we recommend to choose 2.16.0.0 or higher to support Android 10 devices.
"Pay as you go plan" customers are being supported by the most updated APK sealing version which is fully compatible with Android 10.
You can find how to upgrade your plan to "Pay as you go" and 'Enterprise"