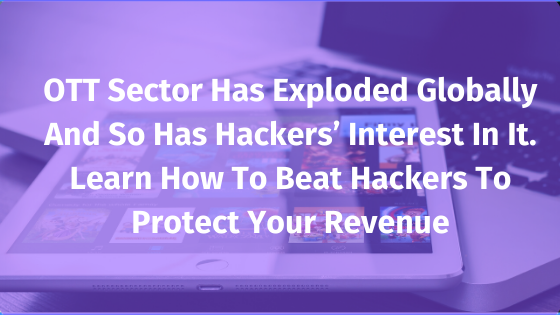 Apps in the over-the-top (OTT) category have proliferated and so has the user base with the popularity of streaming video services. No wonder, they have become the preferred choice of entertainment for the tech-savvy generation. With increased demand and competitive revenue models, OTT apps – like Netflix, Amazon Prime, HBO Now, etc. – are going to be the future of video consumption. The global OTT video market is projected to grow exponentially and slated to be worth $75 billion by 2023.
Revenue Models
OTT video-streaming platforms provide users with free as well as paid video content, with paid membership entailing users to view exclusive premium content. Moving away from video-on-demand (VoD) services, businesses have started investing heavily in the OTT sector to make their revenue model future proof and providing their customers with high-quality services. The best part is that the streaming services work on multiple platforms – including TV, desktop, laptop, and mobile devices – and since it is an authentication-based service, the user can enjoy premium services across multitude options. Such accessibility and sense of control over what and when to watch has provided this sector a much-needed boost through user-centric subscription models.
Are OTT Apps Safe?
With such proliferation comes security threats too, which can bust your revenue model. The potential of exponential growth in the OTT market is threatened by an emerging AppSec threat landscape, which, if not handled well, could well derail the juggernaut. Companies should take into account such threat vectors and patch their vulnerabilities as and when found. This is indispensable for securing revenue streams against future shocks and prevent businesses from getting sabotaged.
App forgery, malware attacks, SO file tampering, and reverse engineering figure among the most critical threat vectors impacting the OTT framework. Hackers try to get unauthorized access to your premium content by tampering SO files (shared object files are used to load common files into the library) and enjoy exclusive content at no cost. In such a threat environment, if developers do not adopt state-of-the-art security solutions, their company's revenue model and customer trust come under risk.
Though businesses have started implementing customized security measures, they may not be enough to counter complex security threats. For example, some OTT providers apply AppSec techniques like code obfuscation to protect DEX (Dalvik Executable) files but leave SO files insecure. This renders the entire exercise futile, as even one weak link can turn the whole security framework ineffective.
Reverse-Engineering Challenge
Reverse engineering is also a major threat to the OTT app segment. Hackers often disassemble the app code, analyze it, insert some malware/change it, and compile the infected app as a pseudo entity. This application can now be used by hackers to access premium content without even paying a penny to the company! Users downloading the infected app become prone to wide-ranging security threats and loss of crucial data. If app integrity verification checks are in place, app tampering and re-distribution can be stopped well in time.
An intelligent hacker could also attach debuggers/decompilers to an OTT app to analyze runtime behavior and binary files to understand codebase and business logic comprehensively. This knowledge helps the hacker in using the app as a proxy to gather sensitive information, such as consumer details, in-app financial transactions, etc.
Securing OTT Apps with AppSealing
AppSealing provides end-to-end security protection to the OTT app business model by encrypting the complete codebase and DEX and SO files to prevent any static code analysis by hackers. AppSealing's Runtime Application Self-Protection (RASP) protects your OTT app during runtime against both known and unknown threats without any additional coding. Integrity verification is one of the core features of RASP, which prevents any unauthorized code and resource tampering.
Through its novel and innovative solution portfolio, AppSealing dynamically detects any debugger (often used for analysis and decompilation) and nullifies attempts to tamper the app's codebase. Its network packet sniffing detection feature terminates the app's execution as soon as it detects a packet sniffer. This shields the app's communication with the server at all times. Its memory access detection feature prevents unauthorized external processes from accessing the app's memory.
Explore AppSealing today using the free trial and empower your OTT app with the latest security features and plug vulnerabilities. AppSealing ensures that your app's premium resources are available only at the prescribed cost and shields your business revenue model from AppSec shocks.