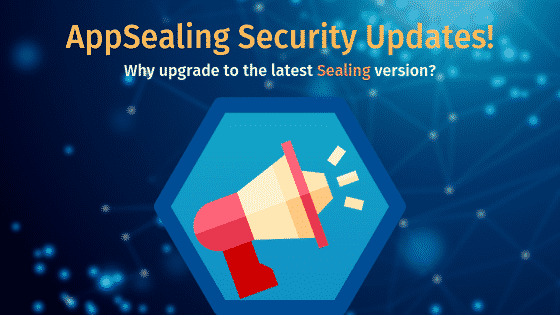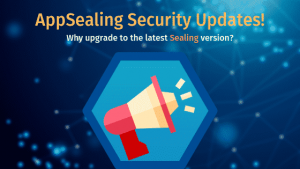 How often do you close that pop-up/email notification in your mobile/laptop/desktop which signals that your software/app is due for an upgrade? If you have chosen to secure your app with AppSealing advantage, you would have noticed that it protects your app and users' devices against unauthorized hacks round the clock. The AppSealing developers are constantly on the lookout for a hint of hackers' developing interests in newer methods of stealing data and code from compromised apps and devices, which enables the AppSealing developers to preempt attacks and push security codes to your app.
Sealing upgrades pushed by AppSealing contain patches and security fixes and are one of the most recommended ways to protect your system and applications from the prying eyes of hackers. But it is also one of the least-implemented ways by app developers and end-users, who often procrastinate implementing the upgrade by "dismissing" the relevant notification. What is worrisome is that developers feel that once they have implemented a security solution, it is good for a long time and does not respond to emerging threats. This leaves their applications vulnerable and open to multiple threats, which the periodic AppSealing upgrades seek to rectify and patch. 
An app that has not been updated for long always carries the risk of bugs and exploitable threats irrespective of the best efforts of the developer community that first released it. App developers should realize that a few minutes invested in applying AppSealing updates can improve their users' experience in the long run. The next time you see an AppSealing pop-up/email on your screen or dashboard, remember that its developers have taken one more crucial step to protect your brand value.
AppSealing at Work Round the Clock
Though regular App updates do not make your applications and users' devices fully foolproof from hackers' manipulations, it is a significant step in the right direction to help AppSealing provide an updated, all-round protection to your apps. Along with routine security protection against reverse engineering, anti-decompiling, and anti-debugging, AppSealing handles emerging security threats in a convincing manner.
A case in point is the latest release update 2.16.0.0 which supports .Net 4.x scripting for Unity 2017.1 and higher. With improved rooting app. detection security logic to behavior-based for virtual-space and multi-space apps. It always strives to provide the best user experience when it comes to security and performance. But it is contingent on end-users too to apply these updates as and when they are released to take full advantage of AppSealing's capabilities.
If you need any help you can reach us on support@appsealing.com.