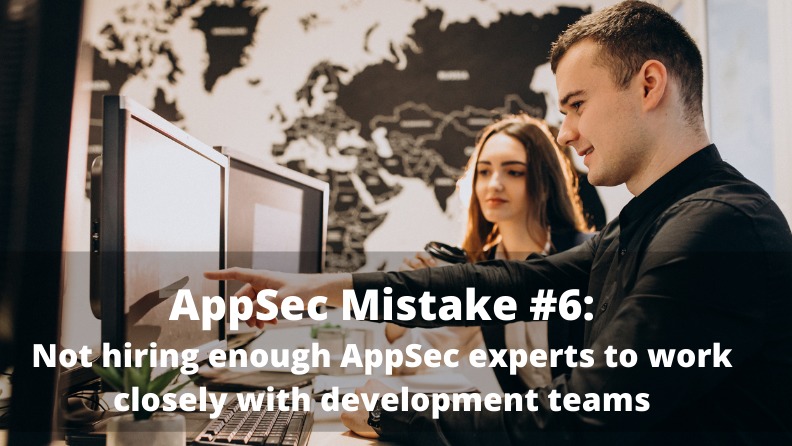 As seen in Part 5 of the AppSec mistakes series, enterprises often find it difficult to understand the importance of application security for securing their products and business. But, once understood, it is important to rope in a team specializing in implementing security solutions. Building a sustainable and effective enterprise-level application security framework is not everybody's cup of tea, least of all executives or developers alone. It requires foresight, a deep understanding of components constituting the framework, and applying the right mix of components relevant to the organization. Hence, it should be a no-brainer that involving professionals with the appropriate set of skills is indispensable to give AppSec its rightful place in the overall development framework.
The Right AppSec Experts
Security professionals essentially evaluate AppSec measures already in place and layout remedial measures in the short, medium, and long terms, usually in the form of a security road map. The importance of this road map cannot be understated: This is, often, the single most important make-or-break document which determines whether the company has successfully dealt with the security problem effectively or it has failed in the endeavor. The road map should mention, in particular, the whos and whats of the security framework, so that the company can protect customer data and brand loyalty, which could result in enhanced revenue in an increasingly uncertain security environment. Preparing this road map, and enforcing it effectively, should, hence, be entrusted to an AppSec expert.
Without seeking expert guidance of companies specializing in application security, flawed, half-cooked, and impractical policies continue to stay in place. Resultantly, they fail to take off the ground as planned, and the whole effort goes down the drain.
Roping in the right set of people helps immensely in knowing how to take up the AppSec program forward by setting up critical milestones on the path to achieving a foolproof AppSec framework. This also provides ways and means to scale up the environment, whenever appropriate, to improve the effectiveness, efficiency, and robustness of the security approach.
Why Developers are not AppSec Experts
Not taking enough security staff on board to work closely with the development team can prove to be a costly proposition in many ways, especially when the company's reputation is at stake. Few of such evident repercussions are listed below:
Having a team of developers who are not trained in security aspects could result in frequent re-works to patch an unresolved security vulnerability after discovery. The time to resolve complex security issues could take days, if not weeks. This could render the agreed delivery timeline with the client go haywire, with just one delayed software release.

More often than not, developers are the most hard-pressed resource in an IT team. Burdening them with the additional responsibility to take care of security aspects might be expecting too much out of them.

Worse still, the development team may not be acquainted with the latest security best practices, and solely relying on them to secure the product releases could, in fact, backfire. Not fixing the identified flaws immediately adds to the technical backlog. There is a high chance that hackers exploit such security loopholes.

Not making security a component in the end-to-end workflow can cost a company big time. Security deserves its ominous presence in the modern DevOps framework, morphing seamlessly into DevSecOps.

The rise of sophisticated information workflow between people and corporate networks for ease of working has increased the risk of information exposure. This puts at risk critical personally identifiable information, and resultantly the brand image in case of a security breach.
Most of the above-mentioned problems have a common root cause – not engaging AppSec expertise at the right checkpoints to streamline and prioritize the security organically into the development life cycle. A typical AppSec program developed by experts contains a set of standards, guidelines, and risk-mitigating controls that assist in the exploration, remediation, and prevention of application vulnerabilities. This is evolved through discussions with executives and development team, and taking both the groups into confidence.
Tools Work Best in the Hands of Best Experts
Various software assurance frameworks and models, like the OWASP Software Assurance Maturity Model (SAMM), provide a base to prepare and measure your company's AppSec program over time. Engaging experts in the AppSec field helps establish a sound ground for using such models and aligning the AppSec program's goals with the company's goals and objectives.
Training your development team with security fundamentals also goes a long way in fixing the security flaws quickly, so that they do not transmit to the live environment and avert any zero-day attacks. But, that may just not be enough to handle complex, dynamic security threats, given that the security vulnerabilities are getting sophisticated by the day.
Do not let the lack of experience in running application security initiatives fail your AppSec program before they even start. AppSealing could prove to be the game-changer in implementing robust and sustainable security practices, customized according to your business needs and priorities. AppSealing's patented application security solutions help 600+ mobile applications to protect themselves from security threats with end-to-end security. Adopt it today and experience the next-level vulnerability detection to enable quicker remediation!