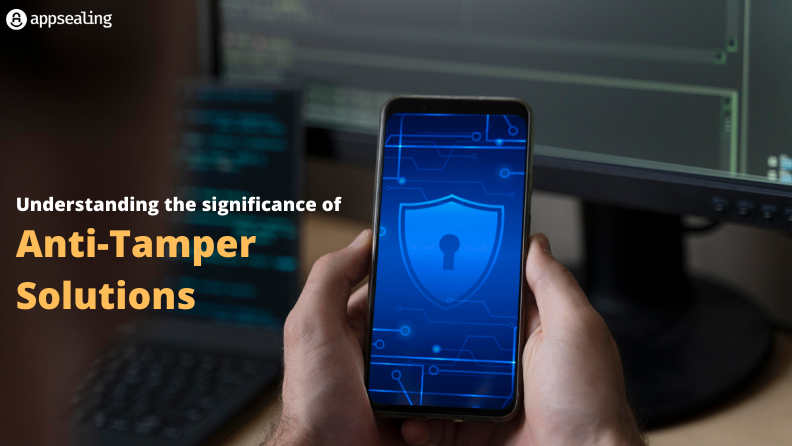 Tampering is one of the leading causes of security breaches which means an anti-tamper technology is indispensable to protect assets and information from breach. Hackers with malicious intent always look for the weakest link to exploit and gain unauthorized access. Both hardware and software need to be protected from tampering. This article will walk you through anti-tamper solutions that can safeguard your enterprise from breach and financial losses. Let's dive in and explore them. 
Anti-tamper Solutions
Anti-tamper solutions include tamper prevention, tamper detection, tamper response and tamper evidence. A tamper-resistant system should be designed to block hackers from manipulating critical data. There are several tamper prevention and detection mechanisms that can be deployed to thwart attempts to modify a software or hardware.
Anti-tampering for Softwares
Hackers try to manipulate the code and behavior of the program with several tampering techniques. Tampering techniques commonly employed by hackers include installation of backdoors and rootkits, disabling security monitoring and weakening authentication systems, injecting malicious code to gain access to sensitive data, interfering with control flow and communication, extracting data and algorithms by manipulating code and app repackaging. 
Similar to how the hardware components can be tampered with, software too needs protection from tampering. An anti-tamper software is a software that makes it difficult for hackers to modify or manipulate it. There are both active and passive measures that can be implemented to prevent tampering. Passive measures include obfuscation that prevents attempts at reverse engineering. Active measures include anti-tamper detection techniques that force the program to shut down or malfunction when any attempts to modify it occur. Applications are susceptible to attacks right from the development stage till the final deployment and maintenance stage.
Physical security breach is also an important concern which needs to be addressed with effective security measures. Hardware protection is therefore equally important. Anti-tamper techniques to prevent physical security breach can be classified as tamper prevention, tamper detection, tamper evidence and tamper response techniques. 
Tamperproofing Methods
An anti-tamper mechanism can be implemented either from inside or outside of the application. Security measures implemented from outside include malware scanners and anti-virus systems. When security measures are implemented from inside, the application is equipped to protect itself from tampering. These measures provide runtime protection to applications and make use of obfuscation, encryption, checksums and hash codes. 
Tamper-proofing with obfuscation: Anti-tamper solutions that employ obfuscation prevents hackers from reverse-engineering the application. Reverse engineering is uncovering the underlying software principles to gain an understanding of how the software works. 

Tamper-proofing with whitebox cryptography: Anti-tamper solutions using

whitebox cryptography

involves encryption. Hackers need to decrypt the software first to understand its workings. But tamper-proofing with encryption not just encrypts the data but ensures that the encryption keys too are well protected.

Tamper-proofing with hash codes and checksums: Using checksums and hash codes help detect changes in the protected code. 
Uses of Anti-tamper software
Anti-tamper software has numerous applications. It is highly effective to prevent tampering in applications that store sensitive data. Anti-tamper software has uses in finance, gaming, and military industries. The gaming industry uses anti-tamper solutions in anti-cheating software. 
It is used in embedded systems and license management software as well as digital rights management systems. As digital rights management systems are responsible for protecting copyrights of digital media, any successful attempt at tampering would mean loss of copyrighted works. An anti-tamper software is therefore essential to protect digital rights management systems. 
Similarly, fintech applications that facilitate mobile banking store critical sensitive information. An anti-tamper software is critical to prevent hackers from accessing the applications' inner mechanisms, modifying variables statically or dynamically, accessing memory used by the application and analyzing the application's interaction with its environment. 
Final Thoughts
An application's efficiency and security is dependent on its ability to thwart tampering attempts. Both hardware and software components need to be safeguarded against tampering. A secure hardware design along with anti-tamper software is critical to achieve complete protection. 
App repackaging is one of the major threats posed by tampering. Hackers can clone your application which subsequently leads to major financial losses as well as loss of customer trust. Tampering can also result in runtime manipulation and IP theft. An anti-tamper technology is essential to  prevent information leaks and breach of physical security boundaries. Anti-tamper technology may increase the size of the application but that actually makes the hacker's job more difficult.
For more information on anti-tamper software, click here.
Appsealing is a top-notch security solution provider specializing in protection of Android, iOS and Hybrid apps. With deep expertise in catering to gaming, fintech, ecommerce, movies and O2O industries, it deploys robust security solutions with zero coding. Compatible with third-party tools, its security solutions ensure runtime protection of applications with threat analytics on attack vectors and no impact on app performance. Get in touch with us today to secure mobile apps instantly with robust solutions.