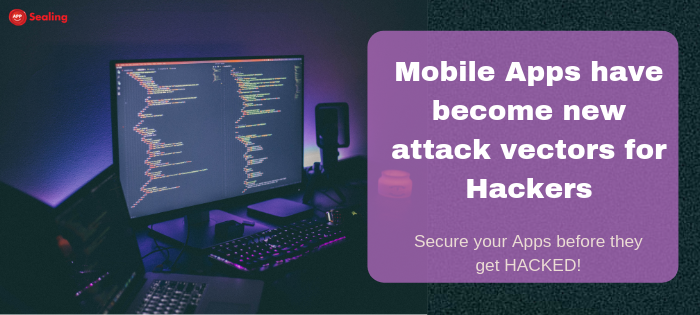 A majority of online traffic has moved to mobile with the proliferation of smartphones and global Internet connectivity. Businesses have also tried to grab this opportunity by moving their core activities on mobile apps. Mobile apps have become useful not only from the point of view of business propagation but also to ensure improved user experience and usability. In fact, mobile usage is so widespread now that users do not trust a service that is not synced across devices.
Downside of Mobile-Centric Ecosystem
Mobile apps have become one of the leading vectors for hackers to exploit and attack. RSA's recent statistics reveal that smartphones account for whopping three-quarters of all hacking attempts. Attacks using browsers have fallen but now are channelized through apps due to increased Return of Investment for hackers. Reports also suggest that 90% of top paid mobile apps (iOS and Android) have been hacked. These numbers exemplify the importance which should be accorded to ensure mobile app security, but a lack of concerted action in that direction has led to deleterious consequences. This results in a loss of critical business revenue, loss of trust, and reputation.
Hacking a mobile app, and through it, the mobile device can land a hacker with a goldmine of information about the user, such as personal information and monetary transactions, which can then be traded in the dark web! The cost of a mobile app hack costs businesses $4 million on an average and continues to grow exponentially, and is further expected to reach $1.5 billion by 2021, according to Intertrust.
Attack Vectors
The fact that businesses do not invest much in building security aspects as much as they do on app development has been advantageous for hackers as well. In a majority of cases, security measures generally focus on reactive protection rather than taking a proactive approach. The indispensability factor about securing a mobile app is reinforced only when an incident of hacking actually takes place, but by then it becomes too late to take any worthwhile action.
Impersonation to infuse malware in redistributed apps (by changing app binary) is a looming threat that can cause biggest risk to businesses vying for creating a robust online customer base. Device fragmentation and loopholes in the underlying mobile operating systems have made things easier for hackers to distribute malware-injected apps. Traditional protection methods, like data encryption, two-factor authentication, etc., have not helped much, and hackers have evolved techniques that have been a step ahead than solutions professed by security tools adopted by businesses. In the times when chances of hacking are not about "if" but "when", an impending catastrophe should be handled heads on. A multitude of security solutions inhabit the market, and it is necessary to choose the one which can effectively deal with threats, and is both proactive and futuristic in its protection methodology.
Read our blog on 10 Best Practices for Developers to secure Mobile Applications from complex attacks
The Right Approach
A variety of attack options available with hackers make it virtually suicidal for businesses to adopt a wait-and-watch approach. With hacking attempts expected only to grow in volume and sophistication, the only effective way to tackle mobile app security comprehensively is to lay out a security roadmap and adopt security solutions proactively. In the contemporary landscape wherein dedicated hacker groups have emerged and are involved in "hacking-for-fun", it becomes imminently pertinent to invest in such security solutions that can effectively deal with any major eventuality and protect your business interests from repercussions. The least that developers can do is to ensure that the mobile apps are protected from OWASP Top 10 mobile app security risks. Even one weak link in a seemingly secure system makes the whole environment unsecure.
AppSealing as One-Stop Solution
AppSealing provides businesses with an end-to-end comprehensive mobile app security suite. It not only insures your application against existing security threats but protects against runtime threats using Runtime Application Self-Protection (RASP). Meaningful alerts and action points are generated on the fly to keep business owners aware of the threats. AppSealing encrypts source code and maintains app integrity. Since it sits as a layer over the app, the cheat tool and emulator detection ensure runtime protection against multiple attack vectors. AppSealing provides support to a wide-ranging app genres, like mobile games, O2O businesses, fintech, etc.
It is high time you adopt AppSealing and get your mobile apps protected quickly with no performance issues whatsoever and ensure your mobile app losing revenue against impending threats!