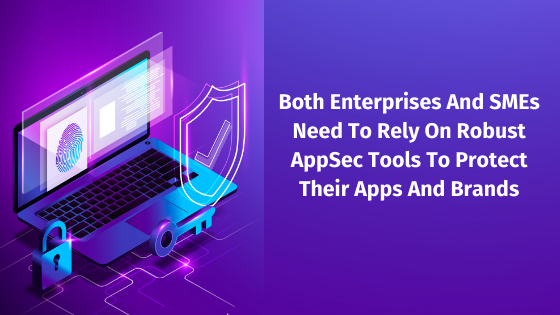 With security attacks increasing both in number and complexity, the application security framework has come to occupy one of the topmost priorities in the boardroom discussions of many corporates, and rightly so. Entrepreneurs have come to understand that no application is completely secure and that there are fair chances of their applications falling prey to major security attacks if they don't take corrective actions immediately. Security incidents have assumed disastrous proportions in causing damages and often result in serious repercussions to the brand image, customer trust, and consequent revenue loss. This realization has resulted in increased spending on AppSec initiatives, which is only projected to grow in the future.
Why Spend on ASTs
Corporates need to observe where they spend their security budget and analyze whether all aspects are covered sufficiently. In the name of spending, firms often spend mostly on perimeter solutions and miss out on or ignore the importance of AppSec in the overall security landscape. In the event of data breaches, critical personal information of consumers is at stake. Handling such a deteriorating situation would require overhauling the overall security apparatus, from performing regular and continuous AppSec testing to implementing secure network perimeter solutions. One way to effectively handle such multifarious activities in a streamlined manner is to adopt AppSec Tools (AST).
Along with the adoption of ASTs, developers must be skilled enough, to derive a positive cost-benefit ratio by using such tools effectively. With the emergence of agile development methodology and the decline of traditional software development life cycle (SDLC) models, such tools have become indispensable more than ever to facilitate issue reporting and quicker resolution. This, in turn, helps in pushing secure application releases without breaching deadlines.
Customize ASTs
ASTs have become quite popular with the emergence of cloud-hosted and SaaS applications. With enterprises placing their applications' security high on the pedestal, the cloud has already started to rule the roost and is integral to making critical applications risk proof and future-ready. Whether on-premise or cloud, enterprises have to see application security not only as an extension of vulnerability management but also prioritize their security needs by building secure codebase. An overall understanding of application threat landscape and risk exposure would go a long way in helping businesses to employ an intelligent mix of static and/or dynamic ASTs, each designed for specific use cases.
Buying an AppSec tool should involve a proper drawn-out process – mapping requirements of AppSec security to the functionalities which the tool can help the development team in that direction, in discussion with all relevant stakeholders. This should sit well within the overall business strategy as well as satisfy the overarching security framework. AppSec tools should be intuitive, not require a steep learning curve, and intelligent enough to provide crash analytics and insightful, actionable reports. A combination of SASTs and DASTs enables developers and testers to see how an application responds to different threat vectors, instead of having a one-dimensional view. Thus the impact factor of an AppSec tool derives from how it is effective enough in fulfilling the business and security strategy.
Ease of Use and Effectiveness
A security solution that neither hinders the productivity of the team nor performance of the application in any way is well accepted. AppSec initiatives should ensure that vulnerabilities are caught before they can be exploited by hackers. Even in the case of internal applications, security should be factored in the development life cycle. In stark contrast to manual code reviews, AppSec tools performing dynamic testing often exploit vulnerabilities in the code which are not perceptible during manual reviews but could well be exploited when exposed to the outside world. This proactive approach helps businesses to stay ahead of the curve and whether security threats by building robust applications capable enough to withstand attacks. This is essential in today's arena of agile development, CI/CD (Continuous Integration/Deployment) models, and tight deadlines. This requires placing security in the same plane as designing applications with high-quality user interface and unique functionalities.
AppSealing is the AppSec Tool for you
AppSealing is a one-stop-shop for your application's security needs, with a robust security architecture layer, irrespective of the size of the enterprise you run. This AppSec tool meets global standards and can be set up quickly, without impacting the app's performance/memory usage whatsoever. Its ease of use ensures that it can be seamlessly integrated even by a small team of developers of SMEs. Moving away from the perimeter mindset, AppSealing aims to secure your application from all the emerging threats comprehensively with the latest security patches. An intuitive dashboard allows you to keep a tab on major security parameters and keeps emerging security threats at bay!
Use AppSealing today and secure your application!