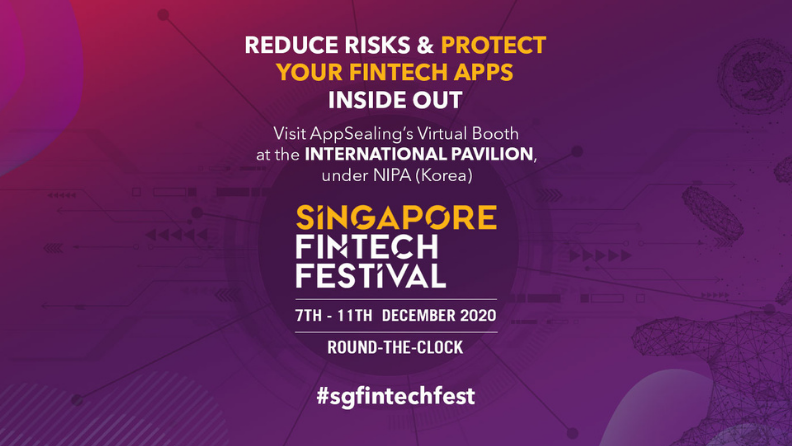 Connect, Collaborate, and Co-Create at the Biggest Fintech event
AppSealing – World's Leading Mobile Application Security Company is excited to be an exhibitor 3rd time in a row at the largest Financial Technology event in the world. The virtual festival is a 5 days event which starts from the 7th-11th of December.
You wouldn't want to miss out on this great opportunity. JOIN TODAY to
To Know More, visit: https://www.fintechfestival.sg/register-now
The event brings start-ups, investors, research institutes, and innovation professionals under one roof.
The event goes Global with 24*7 access for 5 days and 40+ Global Satellite Events in FinTech hubs around the world, comprising physical and digital formats.
What's at the event:
Featured Speakers like Satya nadella, Bill Gates, Sundar Pichai, Vijay Shekhar Sharma, Akon, and many more..
SFF by numbers is huge:
240+ Hours of World-Class Content
800+ Global Speakers
40+ Global Satellite Events
60,000+ Attendees
Online Networking, Business Matchmaking and Meetings
Online Workshops and Demos
Online Exhibition
1 Pass, 2 Events
When:
7th – 11th Dec 2020 (24 hrs access)
Where:
Virtual Event- Meet us at the International Pavilion, under NIPA (Korea)
Fintech, no doubt, is the future of financial services. Gone are the days when people had to carry their passbooks and financial instruments to a physical bank to initiate transactions. Users can now carry out the same process sitting in their living rooms with the help of their mobile devices. The industry, however, faces a lot of roadblocks in protecting the user data and meeting compliance targets. Security breaches deter customers from using fintech apps. This is why companies developing their fintech apps have to ensure that they hire the best in business. These companies should use real-time protection mechanisms, such as AppSealing services, that provide source-code protection, app integrity protection, anti-debugging, network packet sniffing/spoofing tool detection, and cheat tools in real-time.
The Virtual event is shaping up to be one of the biggest fintech events ever, so we want to make sure you know what AppSealing is up to throughout those 2 days.
Our team is available to answer your security questions and share the benefits of the AppSealing application security service, the industry's leading mobile app security solution.
Checkout live Demo of our powerful security suite that ensures real-time in-depth application security like source code protection, anti-reverse engineering, cheat tool detection/blocking, emulator detection/blocking, and enforces app integrity.