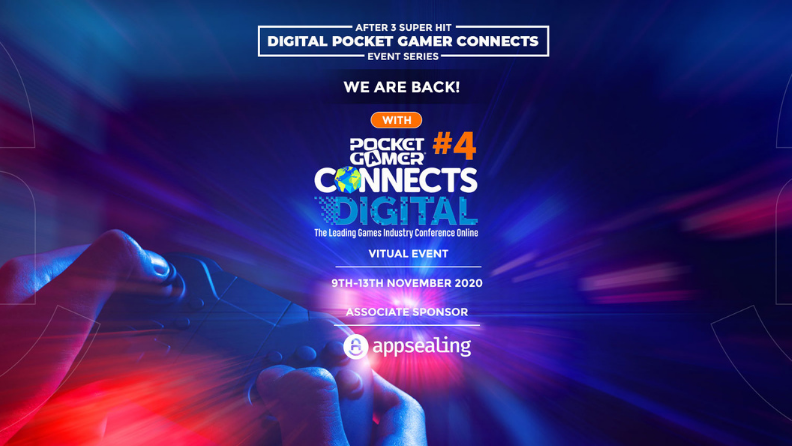 Europe's Biggest Virtual Gaming Conference.
Online gaming is one of the fastest-growing technology sectors in India. By 2021, the segment is estimated to be worth $60 billion and consists of more than 628 million gamers.
After an incredible response to its 3 events, Pocket Gamer Connects is back with PG Connects Digital #4. Associate Sponsor: AppSealing.
Experience everything you expect from a Pocket Gamer Conference (talks, panels, networking etc.) in PG Connects Digital #4.
The online event, to be held on November 9-13, will bring together startups, scaled-up companies, investors, technology leaders, and innovators to discuss, debate, and develop ideas and engagements that build and shape gaming innovation and the entrepreneurial narrative globally.
The conference will provide comprehensive coverage on a wide range of topics that cover every aspect of the online gaming industry and provide an opportunity for participants to connect with investors, industry experts, and more.
See 200+ pre-eminent speakers sharing their insight across several themed tracks. To name a few:
Govindraj Basatwar – Head of Global Business, AppSealing will be sharing his insights on "Post-Pandemic Gaming Market Analysis and overall app security landscape."
You can also connect with 1300+ attendees in the upgraded matchmaking and meeting system, and take part in digital versions of fringe events like the Big Indie Pitch and Careers Week.
It will fit around your schedule and be accessible from the comfort of your home or office computer, wherever you are in the world.
This new virtual conference for the games industry, from the makers of PG Connects, is accessible to all. Sign up now.
So don't miss this opportunity and join the PG Connect Digital #4 today.
For more details on the speaker sessions head here or visit here.