AppSealing is protecting customer's apps in 200 million+ devices, successfully blocking 50 million+ threats across the globe. We keep getting valuable feedback and with our daily user base growing day by day, we want to add real value in securing their application business.
With the start of 2020, we want to let you know that we're making some changes to our Standard Terms of Use and AppSealing plan, pricing structure with newly added service offering and our Standard Terms of Use, which will be effective from Feb 1st, 2020.
Key highlights and changes 
The service provider will be INKA Entworks, USA corporation from Korea corporation

New service offering for pay as  you go tier 

CLI tool for supporting DevOps 

Multiple sealing security versions available

Real-Time Threat Analytics to determine attack vectors and compromised devices

Plan and pricing structures 

"Pay as you go" renamed to "Professional"

129$ flat fee charged up to 15,000 MAD

Cap at 15Mil. MAD removed

Unit price and slabs revised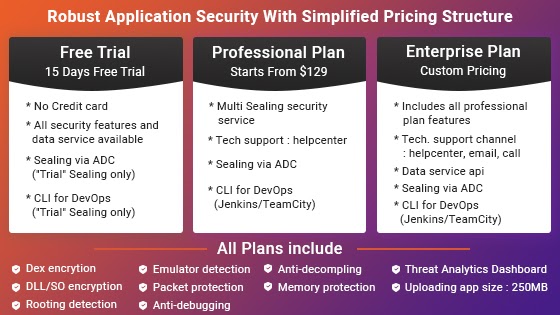 For most customers, this is a modest price increase. For a few customers at specific MAD volumes, we are aware that the changes announced here will increase costs for some customers. These changes will help us continue to support you effectively, run the AppSealing security platform at scale for a growing user base, and continue adding features to give you greater value.
What does this mean for current users and new customers?
Until Jan 2020 those who are on the free tier (0-15000 MAD's) can utilize all the features. However starting Jan 1st, 2020 you will not be allowed to use our service unless you shift to any of the paid tiers and add your Credit card details to use the "Release" Sealing version.
For new customers, we will offer a 15 day free trial with "Trial" sealing only and once tested. You can choose either of the paid plans to use the "Release" sealing version and start securing your apps with ease.

Why are we making these changes?
We've been requested a lot from our pay-as-you-go customers to include the CLI tool and multiple sealing security versions which is currently available only for the Enterprise tier. CLI and multiple sealing security version enables continuous deployment, test and release with AppSealing within DevOps pipelines.
As some of the customers requested it pretty much, we have provided it to some of the pay-as-you-go tier customers who need it but not able to move up to Enterprise tier and they gave us pretty good feedback about these changes. 
So, we've decided to change the AppSealing plan and pricing with new service offerings. We are 100% focused on making something our customers love.
How to make a transition to the new plan
The new plan will be in effect from the 1st of Feb. 2020

A guidance email will be sent before the effective date where you can follow the links towards new service agreement, plan and payment input. 

Few clicks and filling out information will get the transition done 
We're staying committed to investing our time and resources in the new product features and capabilities that will help you secure and develop world-class applications for better customer engagement. This change will help us do that better. 
If you've got other specific questions, feel free to email support@appsealing.com and we'll be happy to answer them for you.