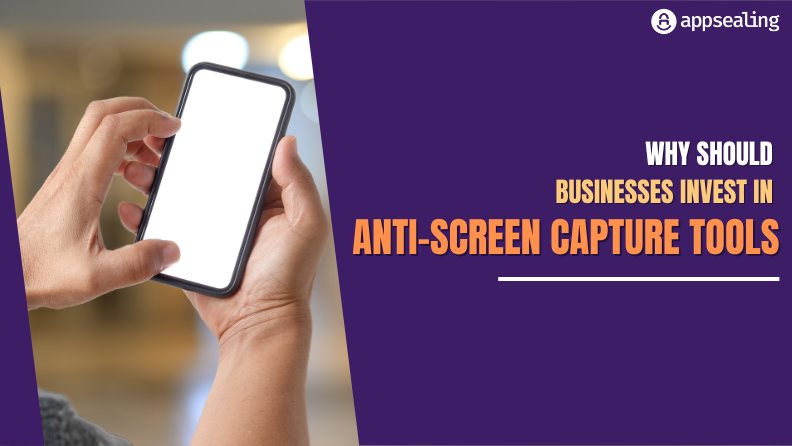 Screen capture is a feature that assists users in saving information in image or video format. However, this feature can be used to launch attacks against the user when the system is compromised. Threat actors leverage screen capture to take screenshots of a compromised system. The screenshots can expose valuable information about the user's system. Information such as login credentials, passwords and banking information may get exposed which can be used by attackers for fraudulent purposes. Screen capture can include just a single screenshot or multiple screenshots or recordings taken at regular intervals. Cybercriminals can capture images or personal information and use them to stalk and harass individuals. They also exploit this feature to steal intellectual property or deliver malware to the system. 
There have been instances in the past when threat actors used screen capture for malicious purposes. Agent Tesla, a spyware that has been a threat since 2018, takes screenshots of a compromised system. Biscuit is another example of a backdoor tool that captures periodic screenshots of the system. Implementation of appropriate security measures is essential to mitigate risks from screen capture. This article will elaborate on best practices to prevent screen capture and some of the best anti-screen capture tools relevant to today's context.
Anti-Screen Capture
Preventing screen capture is essential to stop attackers from exploiting the recordings or images. However, not all systems are capable of implementing screen capture protection. Android apps, iOS apps or iOS browsers can be protected from screen capture whereas desktop and Android browsers will not be able to prevent screen capture. Let's walk you through a list that uncovers more details on where screen capture protection is applicable. 
Windows Desktop/Laptop
Screen capture protection is not possible on a Windows Desktop or laptop with any browser such as Chrome, Firefox, or Edge.
Mac Desktop/Laptop
Safari browser with Fairplay DRM upgrade can prevent screen capture on a Mac Desktop/Laptop. Chrome or Firefox cannot prevent screen capture on these devices.
Linux Desktop/Laptop
No browser allows screen capture protection on a Linux Desktop/Laptop.
iOS Safari
Safari with Fairplay DRM upgrade can prevent screen capture.
iOS App
Native app with a Fairplay DRM upgrade enables screen capture protection on iOS apps.
Android Browsers
Browsers like Chrome, Samsung, Bravo etc cannot be trusted with screen capture protection. These browsers will block screen capture only on certain devices.
Android app
Android apps are equipped with screen capture protection capabilities.
User-specific watermark
Desktop and Chrome permit user-specific watermarks to prevent screen capture.
Use of screen recording app and camera for screen capture
Content piracy through screen capture is commonplace these days. Screen recording can be done using an app or camera. Several screen recording applications save DRM video played on mobile or PC. A smartphone camera or camcorder can also capture the screen when the recording process is in progress. Let's understand screen recording through both the app and the camera.
Content piracy using a screen recording app
Screen recordings captured through the app may be redistributed on multiple platforms without consent. Businesses are struggling to counter-screen recordings captured through the record function of apps. The following preventive strategies are useful to tackle piracy:
Using multi-DRM is one of the most effective ways to protect against screen capture. Encrypting content with multi-DRM prevents content piracy. DRM systems like PlayReady, FairPlay Streaming, and Widevine are capable of preventing screen recording tools. Here is a list of platforms that support DRM:
Windows Edge

macOS Safari

iOS and iPadOS, both for apps and browsers

Android, but only for apps

Chromecast
FairPlay works with Safari browser and apps on all Apple devices, PlayReady works with Edge/IE11 browser for Windows, and UWP app and Widevine works with Android apps. But multi-DRM cannot guarantee protection against screen recording in all cases. Web browsers such as Chrome and Firefox with software-level Widevine DRM are incapable of screen capture protection.
Restrict some browsers or limit content resolution
Businesses can choose to not serve content through browsers like Chrome and Firefox that don't support screen capture protection. But this may cause inconvenience and compromise user experience for individuals used to viewing content on these browsers. Limiting content resolution is another technique for countering the negative effects of screen recording. Displaying content in low resolution on browsers like Chrome and Firefox will render it useless for people with malicious intent looking to record and redistribute content.
Content piracy using the camera
While we looked at strategies to prevent screen recording through an app installed within the device, these won't be useful when screen recording is executed from outside the device. Watermarks can be used as a coping strategy against screen recordings that cannot be completely prevented. 
Put a watermark on the video
Displaying a watermark on the video can discourage threat actors from recording the screen. The ID of the service user or IP address of the client device, when displayed on the screen as a watermark, can help track the user and block further attempts at piracy. 
Forensic watermarking solution
Ordinary watermarking can be sometimes removed through video editing and also compromises the user experience. Forensic watermarking is a more advanced solution that inserts user information as an invisible watermark. This information cannot be removed even during attacks such as filtering, re-encoding, and aspect ratio change. Plus, one can track user information and block piracy even if the content gets leaked in some way. 
What are the best anti-screenshot tools to use?
Anti-screenshot software is designed to prevent hackers from stealing your passwords or other sensitive information through screen capture. Here are three anti-screenshot tools that will ensure protection against screen capture:
1. Zemana AntiLogger
Zemana is an anti-screen capture tool that detects keylogging, webcam capture, and screenshot capture malware. This tool conceals information about your banking, shopping and other online activities to prevent cybercriminals from exploiting the information for malicious purposes. It enables keystroke logging protection, webcam hijacking protection, screen capture protection, microphone hijacking protection, IntelliGuard – cloud-powered early response system, and clipboard remote access protection.
2. SpyShelter
SpyShelter comes with an anti-screenshot module to prevent screen capture. Compatible with all antivirus and security software, this tool comes in two versions called SpyShelter Firewall and SpyShelter Premium and prevents suspicious applications from recording the screen. The biggest advantage of this tool is that it does not compromise device performance when detecting and blocking screen recording activities. SpyShelter restricts attackers from accessing keyboard input, screenshots and sensitive information copied, clipped and pasted into the clipboard. The tool comes along with a Webcam Protection module and protects the PC registry, physical memory (RAM), and other PC components. 
3. ScreenWings 
An easy-to-install tool, ScreenWings stops screenshots from being captured on the computer. The software blackens the screen whenever a hacker attempts to take a screenshot. The hacker will get a black screenshot with no information visible with this tool in place. Compatible with multi-monitor setups, it is based on encryption, data anonymization and HTTPS security mechanisms. ScreenWings also protects users by disabling tracking by viruses, snoopers or spyware.
Final Thoughts
Organizations need to implement adequate security measures to prevent unauthorized access and minimize the risks of screen capture. The capture of sensitive information through screen recording can cause compliance issues which could lead to penalties, lawsuits, and damage to a company's reputation. It can also pose insider threats when employees capture and share sensitive information with third parties or use the information for illicit purposes. 
Anti-screenshot tools are beneficial for businesses in general and organizations that need to comply with regulations such as HIPAA or PCI. These tools should be an integral part of the overall security strategy for an organization to protect its intellectual property and confidential information from being captured, distributed and used maliciously.