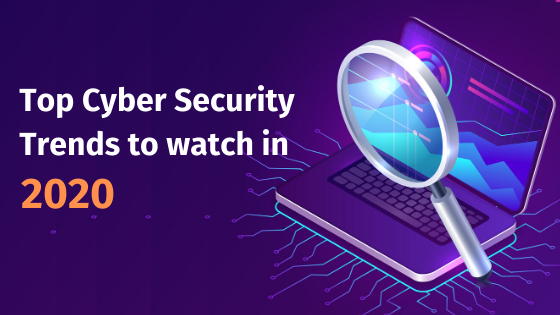 The last year witnessed a huge surge in cyberattacks, both on individuals and big companies. With a growing dependence on artificial intelligence and cloud service platforms, our data has become even more vulnerable to be misused by attackers. Technology is growing at a rapid pace, widening the demand and supply gap for skilled security experts. Ransomware attacks were rampant in 2019 and unfortunately are likely to be one of the biggest threats people worldwide will be exposed to this year as well. Here are a few security trends and needs to watch out for in 2020:
Data Breach Threats
Maintaining data privacy was and will remain the most important cybersecurity concern. Hackers will not rest until private data remains sought after good in the dark market. Not only individuals but huge organizations have to be constantly on their toes to avert any attack. Web application flaws are found to be the root of most data breaches and plugging these holes has become a top priority for all organizations.
Need for Cybersecurity Experts
There is a global shortage of cybersecurity professionals as the number of attacks increases by the day. Competent IT professionals are a rare commodity and the existing experts have to deal with a huge volume of threats. Automated security tools like vulnerability management mechanisms are rapidly growing and allowing smaller organizations to ward off threats from their web applications. But, the constant software growth and development calls for more hands.
Dark Clouds
Businesses are increasingly moving towards cloud platforms for their data storage and management requirements, requiring different and novel ways of approaching cybersecurity. It is inevitable that hackers will continue their relentless pursuit of breaking into organizations' cloud data stores. It is, therefore, critical to think beyond manual security management systems. Cloud data, if gained access by hackers, is landmine they can exploit.
Mobile Devices under Threat
Mobile devices will continue to grow, and so will the risk associated with data stored on these devices. Researchers believe that more instances of data breaches on devices can be expected this year. In 2019, we saw a 50 percent rise in mobile malware attacks with hackers breaching social media, gaming, and even SMS apps. Mobile phones will continue to be a hotbed for malicious activities.
Artificial Intelligence, Real Threats
The advancements in the field of artificial intelligence or machine learning have given a huge boost to the tech industry and have helped them personalize software. The deep-learning algorithms are widely used in language processing and face detection mechanisms. But, unfortunately, AI is not immune to attacks. Cybercriminals are using it as a potent weapon to develop complex malware and attack methods, increasing the need for organizations to develop more sound threat neutralizing mechanisms.
As things stand today, we will continue to witness an increase in the number of cyberattacks of a more complex nature. Although most of the attacks cannot be averted entirely, being prepared and having a proper mechanism to deal with future threats will reduce the risk of getting affected drastically.