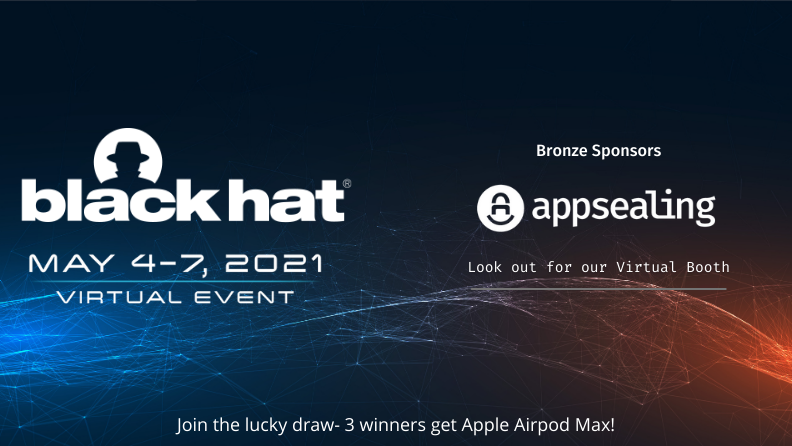 4 days filled with online training, workshops, expert opinion, top-notch security solutions and best-in-class tools. This is what the virtual Black Hat Asia 2021 event will be all about. With a rich heritage of 24 years and backed by some of the best talents and influencers from the cyber security domain, the event would be the perfect melting point of ideas, innovations and solutions. Catering to security professionals from Asia and around the globe through cutting-edge content on information security risks, research and trends, the event promises to be an apt place for knowledge sharing, solution discovery and networking.
AppSealing would be joining the event as a Bronze sponsor to share research-backed insights, best practices and suggestions in the areas of mobile app security and RASP security with 2000+ attendees. The in-app mobile application security provider hopes to provide rich content and guidance around important topics including vulnerabilities, threats and the latest attack vectors, thereby ensuring that security experts are kept updated with the latest security tactics and are ready to face the challenges head on. 
AppSealing would be contributing towards community engagement and showcasing its security offerings through the 'Business Hall', a platform which provides networking opportunities to Infosec professionals to evaluate a broad range of security solutions and open-source tools developed by Black Hat partners. It would be the perfect way for vendors and security experts to explore synergies. More than 350 top cyber security solution providers and tech startups would be showcasing the latest tools, techniques and services being offered for myriad security issues. All event attendees will also get a free Business Hall pass which will enable them to acquaint themselves with the latest and best security technologies available in the market. 
So, if application security is your expertise or interest area, you shouldn't miss this event. Our virtual booth is all set to help you understand and master mobile application security. And the icing on the cake is that it is absolutely free to attend and just needs some basic details to get started with the registration process.
Register here: https://blackhat.informatech.com/asia/2021/
Some key takeaways:
Gain a better understanding of mobile application security by browsing through AppSealing's rich content in the booth

Discover some best practices and proven techniques to up your security posture 

Get rich insights and custom suggestions for your specific security pain points by talking to our solution and business experts 
So, look out for the 'Appsealing' brand name. See you at the event. 
P.S.: We have a special giveaway in the form of a Swag Bag where 3 lucky winners get a chance to win Apple Airpod Max.
Simply register for the event, drop by at the 'AppSealing' booth and take a demo or fill up the form here to get a demo later. Only the official email address will be entertained.
The winners will be notified via email on 25th May 2021!
Who will be at the booth:
James Ahn- CEO
Govindraj Basatwar- Global Business Head
Adarsh Panda- Sales Director
Rupesh Shinde- Head of Marketing
Counting down for 4th May – 7th May. Hope to see you there. If you want to schedule a meeting with the team while there, enter your details below and we will secure a slot for you!
See you at Black Hat Asia 2021, the Virtual Edition!
AppSealing Team