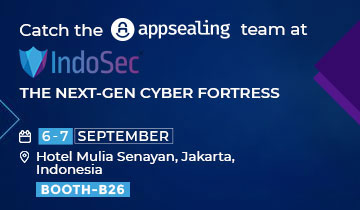 Tradepass is proud to host the 5th Edition IndoSec Summit 2022 in-person on 6-7 September 2022.
In today's increasingly mobile world, the risks are too great to not prioritize security. Through research and conversations, our team identified the top three most common challenges businesses face when it comes to mobile app security.
Protecting Resources from Fraud
Preventing Cloning Attempts
Ensuring Regulatory Compliance
Meet the AppSealing team and learn more about these business challenges and how you can address them. Register for the event and book a slot with us.
Summit details are:
Date:  6 to 7 Sep '22
Time: 9:00am to 6:00pm (GMT+07:00)
Delivery: Hybrid
To find out more please visit:
https://indosecsummit.com/