ETCISO Annual Conclave '23
ETCISO Annual Conclave '23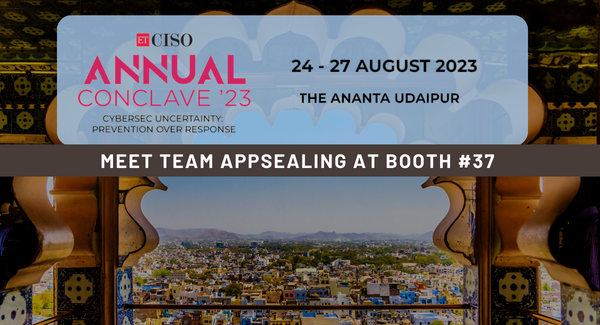 The ETCISO Annual Conclave, hosted by Economic Times, is set to take place in-person from August 24th to 27th, 2023, at The Ananta, Udaipur. This cybersecurity conference aims to provide cybersecurity leaders with a fresh perspective on their strategies, focusing on both external and internal approaches.
The exclusive 3-day residential summit will gather renowned cybersecurity experts to share industry insights and perspectives. The event will gather over 150+ cybersecurity professionals from prominent public and private enterprises in India to explore innovative cybersecurity solutions, foster business collaborations, and exchange knowledge.
AppSealing will be an active participant in this significant cybersecurity event, offering insights into the current state of mobile application security at their booth. Attendees are invited to engage with their experts and take advantage of this valuable opportunity to connect, learn, and contribute to India's cybersecurity community.
For more details, visit: https://ciso.economictimes.indiatimes.com/annual-conclave