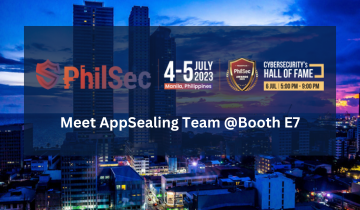 Tradepass is hosting the PhilSec on 4 – 6 July 2023 in-person at the Sofitel Philippine Plaza Manila and online for virtual delegates.
The PHILSEC 2023 is an annual event that brings together industry experts, government officials, cybersecurity professionals, academics, and other stakeholders to discuss and address the challenges and opportunities in the field of cybersecurity in the Philippines. The summit typically features keynote speeches, panel discussions, workshops, and networking opportunities.
The event will host 600+ cybersecurity experts from leading public and private enterprises across the Philippines to source new cybersecurity solutions, drive business partnerships and for knowledge exchange.
AppSealing will be part of the biggest cyber security event in the Philippines!
Join our team at Booth E7 to understand The Current State of Mobile Application Security!
Book a meeting with our expert now>>
See you at PHILSEC 2023, and make the most of this valuable opportunity to learn, connect, and contribute to the cybersecurity community in the Philippines!
For more information visit: https://philsecsummit.com/