Cloud Mobile Application Protection Service
AppSealing

About AppSealing
Premium mobile protection service
for your mobile business
About AppSealing
Developers around the world use AppSealing, the only cloud-based, pay-as-you-go solution for mobile game protection.
Our features and integrations allow you to protect mobile games from hackers and illegal game modification, thus taking benefit of the cloud and full integration to your development infrastructure.
Since 2014
AppSealing has been around since 2014. The service is as a venture from INKA Entworks, a content security company dedicated to helping content developers and publishers protect their content from manipulation and theft.
To understand better the genesis of AppSealing, check Our story on the AppSealing blog!
Our vision
We understand that developing a game requires a lot of time and sweat as we are developers ourselves. And we believe that getting your hard work stolen from you is unfair.
That's why we strive to democratize technology for developers, from indie to large studios, creating innovative security service that is powerful and easy to use.
The parent company
Patent-based global software professional
INKA Entworks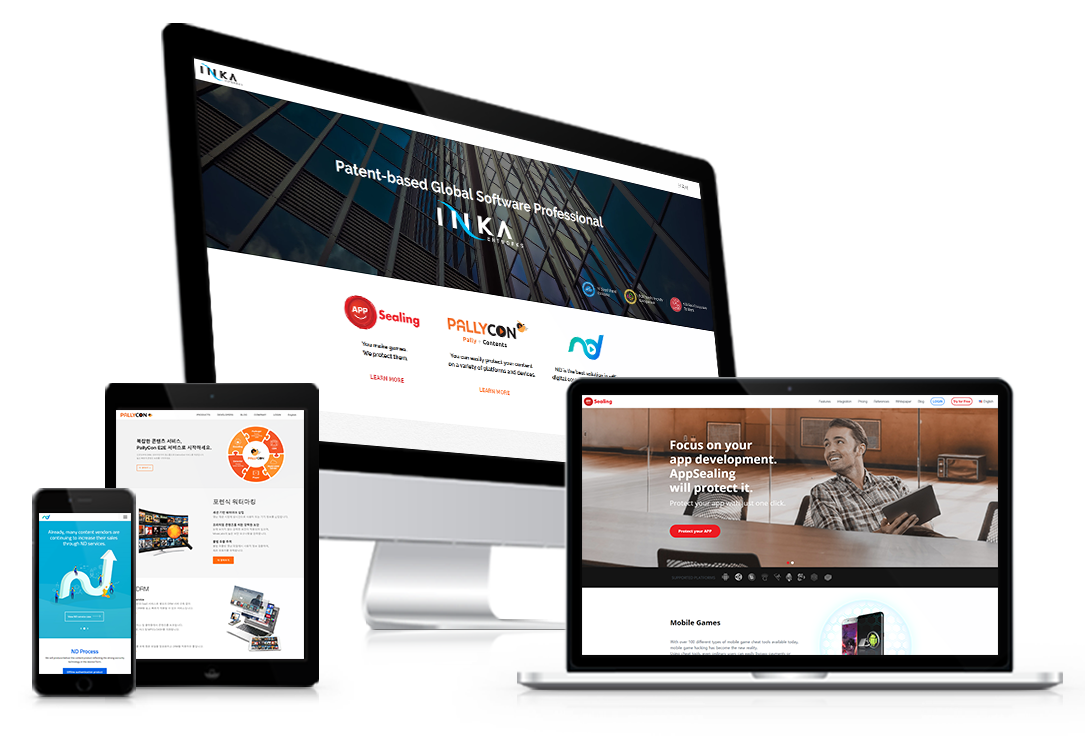 Established in 2000, with over 15 years of security experience, our parent company is a globally recognized leader in anti piracy technology. INKA Entworks' cloud-based, patented security technology prevents hackers from manipulating or stealing content.
INKA is a pioneer in the field of Digital Right Management. It has been credited for standardizing DRM interoperability between WDRM and OMA. INKA is one of only five companies authorized to provide DRM technology for Hollywood movie studios - Walt Disney Pictures, Universal Studios, Paramount Pictures, Warner Bros. Entertainment and Sony Pictures. Some of the 120 clients worldwide currently using INKA Entworks solutions and services include
Join our growing team in Seoul!
Headquarter
1F, 608, Nonhyeon-ro, Gangnam-gu, Seoul (06109)
Tel. 02-538-9058 | Fax. 02-538-6728
India Office
INKA ENTWORKS India Pvt Ltd.
Office No 5, Unit 9, Rupa Solitaire Building no A-1, Sector 1 MBP | Mahape, Navi Mumbai:- 400710
Tel. +91-8169-348342
USA Office
1055 W 7TH ST 33RD FL Penthouse Los Angeles CA 90017
Tel. +1-213-269-5084
Fax. +1-213-269-5085